In the late autumn, with tourists gone, and the desert heat replaced by snow and short sunlight days, the canyons of southeastern Utah are a land of immense space and silence.  Long, wide views across rock and air to distant mountains.  Within these great spaces, there is another set of commanding views — a few feet about the ground.
The micro-Cosmic of "microcosm"
When I travel across landscapes — both physical and energetic — I follow patterns and pathways often invisible to the conventional senses and third dimensional vision.  I know that I am on the "right track" if I am surprised — my higher awareness has led me beyond any expectations, assumptions, or pre-concceptions of what I will discover.
On this trip to the desert and canyons of Canyonlands National Park, in Utah, USA, the rough sandstone became a remarkable mirror and introduced me to a new perspective of "cosmic Earth"and galactic consciousness.
When crawling across the slick rock with my macro lens, I realized that "microcosm" could also be translated into "micro-Cosmic".  Suddenly, the images became mirrors and cosmic portals, as if the rock itself was reflecting its own view facing upwards into the night sky.  Were the rocks themselves gazing at the stars? While so simple, these images speak to me of the heart of galactic consciousness, inseparable from Earth as an evolving planetary system.  While most have forgotten this plane of awareness, the rocks remember.
So this series of images unexpectedly came forth to me, of Earth meeting Cosmos in desert rock …
"Nazca Slickrock"
These lines if seen from an airplane would evoke the great Nazca lines in Peru … here seen from two feet above Earth.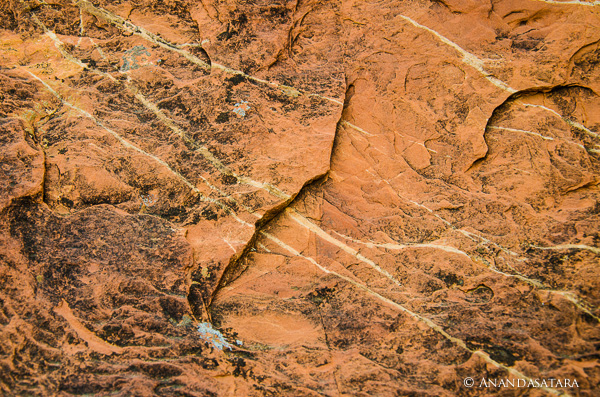 "Lichen Galaxies"
Who knew that lichen can see and mirror nebualae and galaxies, looking up at the desert night sky?

"Leading Edge of Evolution"
At the edge of transformation, of One into Many.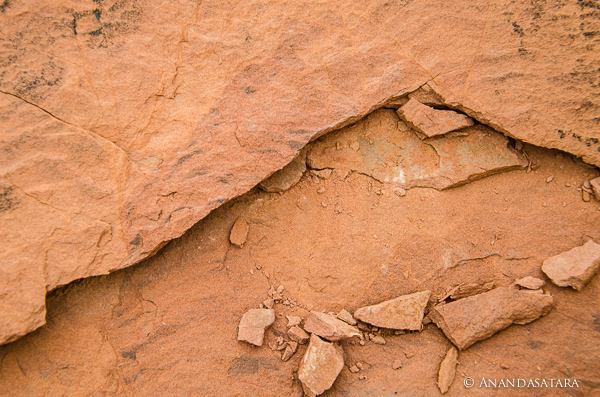 "Shockwave"
From the origin of  No-Time, the waves of stars, planets, and worlds rippled into Existence.
How kind of the rock to (temporariliy) immortalize the waves of Movement from Stillness.