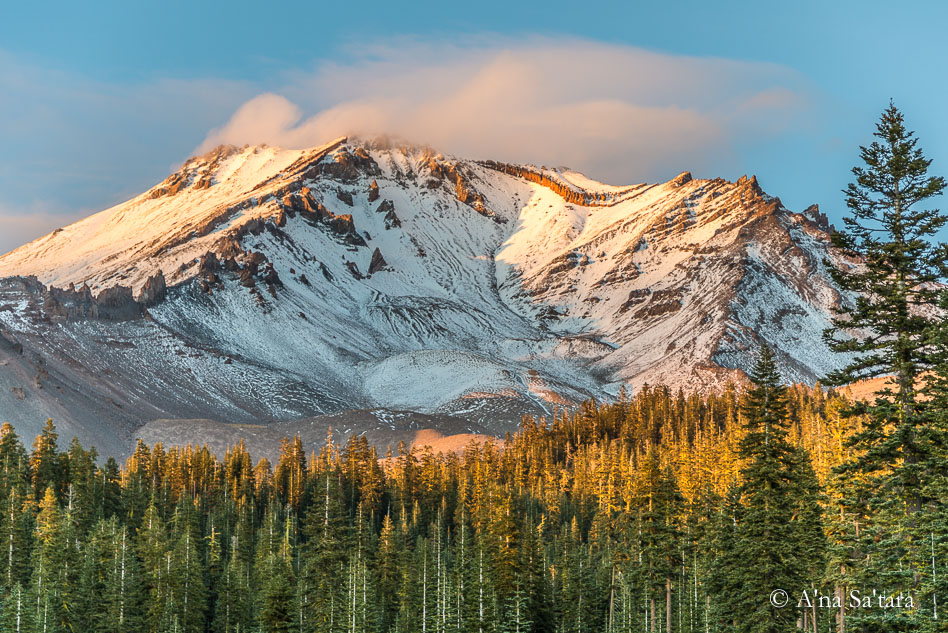 Mount Shasta is a spectacular visual, spiritual, and energetic icon of the northern California landscape: a snow-capped volcano flanked to the south by the extensive dark green forests of Trinity Alps National Forest and arid volcanic lava fields stretching to the north into Oregon.  It is solitary on the landscape and its closest volcanic partner is Mount Lassen to the southeast, quite a distance away.  To the north, Mount Jefferson (Oregon) is next in line of Cascade volcanoes.
The geography of Mount Shasta is both what makes it visually stunning — and, in my experience, elusive to photograph.  Located on a significant planetary ley line, Mount Shasta is a weather magnet and weather generator — creating awesome lenticular cloud formations and grabbing any passing storm or weather front.
I have traveled to Mount Shasta many times for Earth Service work at its sacred energy sites, as it is a well known high vibrational energy vortex, a key energy node on the planetary energy grid, and a nexus for higher dimensional connections.  However, energetic shifts — "cosmic weather" — are often accompanied by their own manifestations of "physical weather" and these storms, clouds, and transitions have often accompanied the sacred geometry and soul ascension activations supported by the high vibrational ley line of Mount Shasta.  (Note: as with all sacred energy sites, there is a mix of energies and intentions present in this location; it is not to be travelled or dimensionally explored without strong awareness and caution.)
In the case with the photograph above, I saw the mountain briefly before sunset, and then, it was shrouded in storm and clouds for the next two days.  But it was a spectacular sunset — both for these still images, and for creating a video during the unique astrological alignment between Venus and Mars on that day (September 29, 2013).
If you would like to learn more about my planetary healing work, extending worldwide from the Mount Shasta ley line, please click here.  I also have created an article for to provide guidance on effective work at energy nodes and ley lines.  For Mount Shasta specifically, I invite you to watch the video on"Receiving new Earth Frequencies: how to align and transform your life" for insights from the sacred energy sites of Mount Shasta and a personal gateway to empower and expand your future.