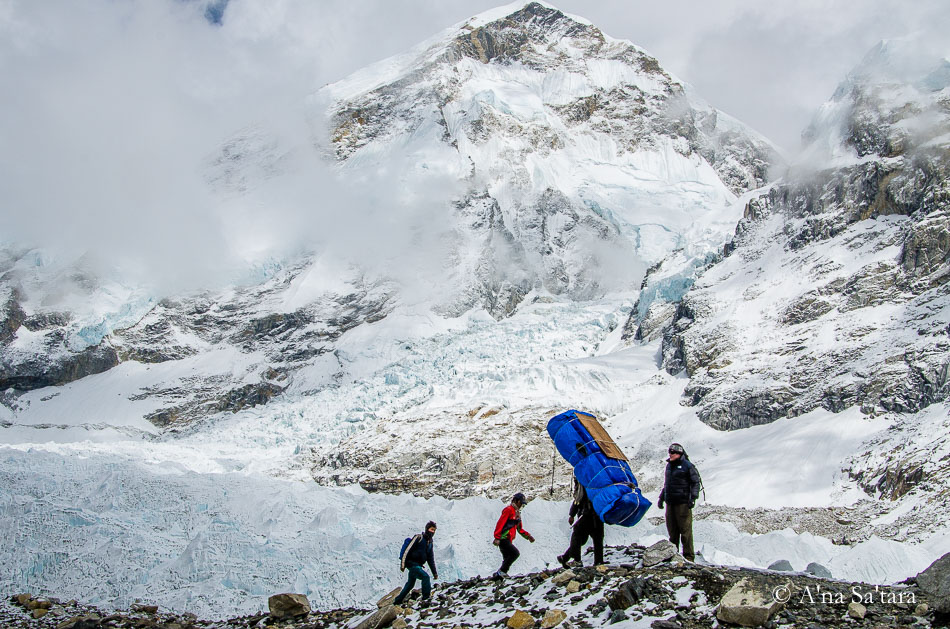 "Human & Goddess": Everest Base Camp & Khumbu Glacier
After the unexpected snowstorm described in an earlier post, we were blessed by a full clear day to be with the great mountains circling the Khumbu glacier.  This spectacular day of photography and cross-glacier travel to Everest Base Camp did come at a price — we "bought" our extra day by taking one travel day from the 39 mile return hike to the airstrip at Lukla for our flight back to Kathmandu.
It was not too hard of a decision to make … after three weeks traversing the "Three Valleys" of the Khumbu (Sagarmatha National Park — Bhote Valley, Gokyo Valley, Everest Valley), we hardly wanted to miss the opportunity to explore the valley circled by the highest of peaks on Earth, clustered on the border between Nepal and Tibet.
After the snowstorm, the air was crisp and fresh, with brilliantly clear skies in all directions.  Truly one of the greatest, and most memorable, vistas of my life.  A deep privilege to be present with such beauty, such raw terrain, and such powerful mountain energies.
Our timing at Everest Base Camp was a month before peak climbing season, so only the advance teams of Sherpas were setting up camp.  It was a construction project like no other — a cluster of brightly colored high tech domes, scattered across the Khumbu glacier.  And — as evidenced by the photo above — EVERYTHING is carried by foot (human or yak).  It is a 45 mile walk to the nearest airport (ascending about 10,000 feet or 3000m in elevation).  And, from the airport, another 4-5 day walk to the nearest road.
A glimpse of Everest Base Camp …