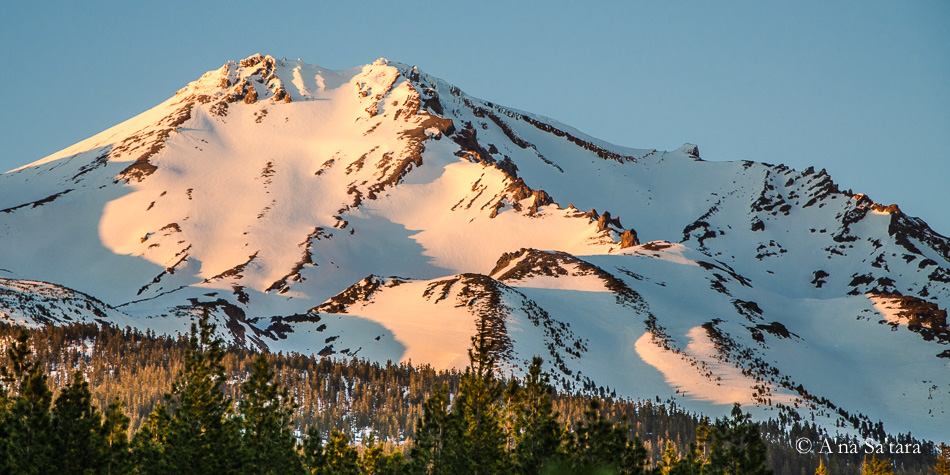 The complexity within a powerful sacred energy site
Winter on Mount Shasta frequently spills into summer and autumn … as this photo, a few days before summer solstice, reflects.  As part of my Earth Service work on western North American ley lines, I have experienced the mountain in all seasons, wearing snow shoes, hiking boots, and skis.  However, it is the high vibrational energy ley lines and energy vortices of the area — aligned with sacred geometry for soul ascension and planetary uplift — that call me, not simply the physical beauty.
Similar to most powerful planetary energy nodes, Mount Shasta and its associated ley line are vibrationally complex.  It is filled with intense and elevating energies … and other pathways best not traveled if you are in search of health, healing, and expansion.   As with all sacred energy sites and ley line work, I recommend high levels of awareness and caution for your soul sovereignty and well-being.  With this in mind, I have written an article with guidance on safe and effective work at ley lines and energy nodes to support the best outcomes for planetary healing initiatives (and practitioners).
Bottom line: the vibrational landscape of Mount Shasta commands both awe and discernment.  In reflection of this awareness, I filmed a video on Mount Shasta titled "Going with the Flow: are you sure?" This video is designed to be a "wake-up call" and challenge to the enticement of the "path of least resistance" which can be mis-identified as a path a of high energy or spiritual "flow." In this video, I offer a deeper and expanded meaning of "the great flow" which is at the heart of your being, your soul, your sovereignty, and your creative power.  THIS is the flow of opportunity, freedom, and vast potential.
A few of my favorite photographs of Mount Shasta …